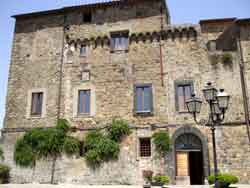 From
Acquapendente
, crossing a vast hilly area, we move towards
Onano
, passing through an area where a small necropolis was found.
It is likely to be related to the civilization of Rinaldone, a population of shepherds and warriors who lived in northern
Lazio
and southern
Tuscany
in the Eneolithic period (or Copper Age), concentrating their settlements mainly in the valleys of the Fiora river and its tributaries.
Famous for being the place where Eugenio Pacelli (pope Pius XII) grew and for an
excellent type of lentils
, Onano boasts a well-preserved old town centre, still defined in most parts by enclosing walls (which originally had 17 towers) and embellished by the massive
Madama Palace
, built in the XVI century and then enlarged and restored by the Monaldeschi della Cervara family.
The small rural
church of Madonna del Piano
hosts a fresco by the Pastura (dating back to 1500) and the church of Madonna delle Grazie hosts XIV century frescoes of the Sienese school, including a remarkable Madonna and Child.