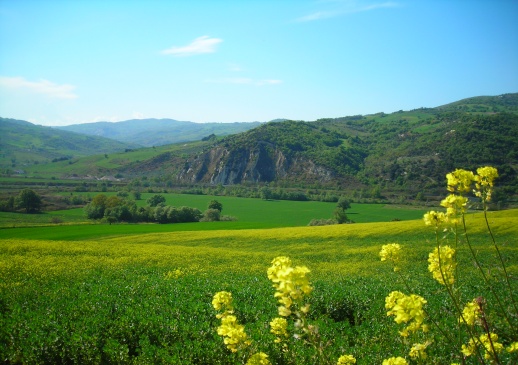 The lower reaches of the
Biferno
, Molise's most important river that empties into the Adriatic Sea a few kilometres from
Termoli
, is the main wine growing area in the region. The hills slope gently down towards the coast, cultivated with just under 400 hectares of DOC vineyards, many of the best of them between Larino and Guglionesi.
The Molise DOC, extended to the whole regional territory, includes various different types of wine, among them a red made from Montepulciano grapes and some whites from Falanghina and Greco di Tufo grapes, varieties also popular in neighbouring Campania, as well as several wines from international strains.
The Biferno DOC area runs parallel to the coast, growing the strains already mentioned above and producing some good whites based on Trebbiano grapes. The province of Campobasso also has IGT Osco or Terre degli Osci areas. A Ventricina is a product that to some extent symbolises Molise's gastronomic specialities.
It is produced all over the region but its true cradle is Montenero di Bisaccia, in the province of Campobasso, where it is prepared following an ancient recipe, with almost ritual care. Ventricina is a rich, tasty salami, made from top quality lean cuts of pork from the shoulder and leg joints, with the addition of a small percentage of fat.
The meat is roughly chopped into large pieces "as pig as a ten year old child's fist" and seasoned with salt, fennel flowers, paprika and chili pepper. It is then left to marinate for 24 hours and stuffed into lengths of pig gut, which gives its name, ventricina, or little stomach. During stuffing pieces of lean meat are carefully alternated with chunks of fat.
The salami is then pressed to remove all the residual air and left to dry out for two weeks in warm, well-aired storage spaces. It is then seasoned in dark cellars for up to eighteen months, covered in a thin layer of lard to prevent oxidisation. At this point it is ready to be eaten, ideally on a simple slice of fresh bread.