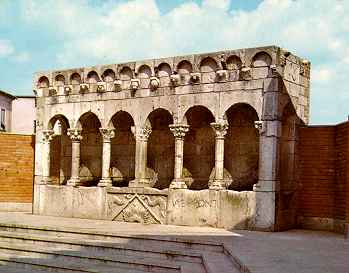 Isernia is an ancient town which still bears the signs of medieval life, although little is left of its original medieval architecture after the numerous times the city was razed to the ground over the centuries and the damage done by the heavy bombing it suffered in 1943, during the air raids of the Second World War. 
One of the few remaining traces is the Fontana della Fraterna (Fraternity fountain), dating back to the 13th-14th centuries, near the cathedral. In Romanesque style, it rests on a stone plinth, centrally decorated with dolphins and a floral motif. In the centre is a small loggia supported by richly decorated columns.
The church of San Francesco still conserves its original 13th-century Romanesque portal, although the rest of the building is largely the result of the 18th-century reconstruction. The interior houses a precious, 14th century, wooden statue of the Madonna della Provvidenza. The S. Maria delle Monache convent complex, which today does duty as the town library, houses an important heritage of manuscripts, documents and old books going back to the 14th century.
There are several places to visit around Isernia for those interested in medieval history. Fornelli has a medieval centre with a baronial castle, a fortified residence dating back to the 5th century with its living quarters protected by towers, walls and a sentry walkway. The ancient village that has clustered around the castle has always been under the protection of the powerful San Vincenzo al Volturno abbey.
A few kilometres away, at Cerro al Volturno, is an imposing castle built on an isolated rocky spur in a dominant position during the 15th century, with a village huddling in its shadow. The stronghold was built on the ruins of older fortifications going back to the Lombard conquest, in a virtually inaccessible position.
 
Visualizzazione ingrandita della mappa